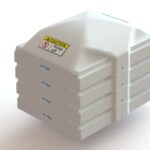 MISSOULA, MT, November 4, 2015 - "We know there is a strong need for safety and keeping starting blocks well-maintained when not in use. This is a product that every aquatic facility with Starting blocks needs," said Nabil Khaled, Spectrum Aquatics Director of Sales, Marketing and Customer Service. "Through marketing research we have found that in addition to our soft starting block cover, our customer base has requested a hard cover." Spectrum Aquatics, a leading manufacturer of commercial pool equipment, is pleased to announce their new Starting Block Cover. The Spectrum starting block covers fit a large variety of blocks with tops up to 25" X 32". The covers are precision vacuum formed from 1/4" white UV protected textured ABS material for durability. Covers nest for ease of storage and are shipped with an elastic cord to secure to the starting platform.
About Spectrum Aquatics® Spectrum Aquatics is a leader in the aquatics industry and is committed to the development of high-quality competitive swim and commercial aquatics equipment for the past 40 years. The company is headquartered in Missoula, MT and is a division of PlayCore. For more information visit https://spectrumproducts.com/.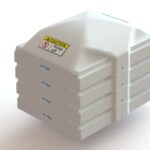 About PlayCore® PlayCore helps build stronger communities around the world by advancing play through research, programs, and partnerships. The company infuses this learning into their complete family of brands.