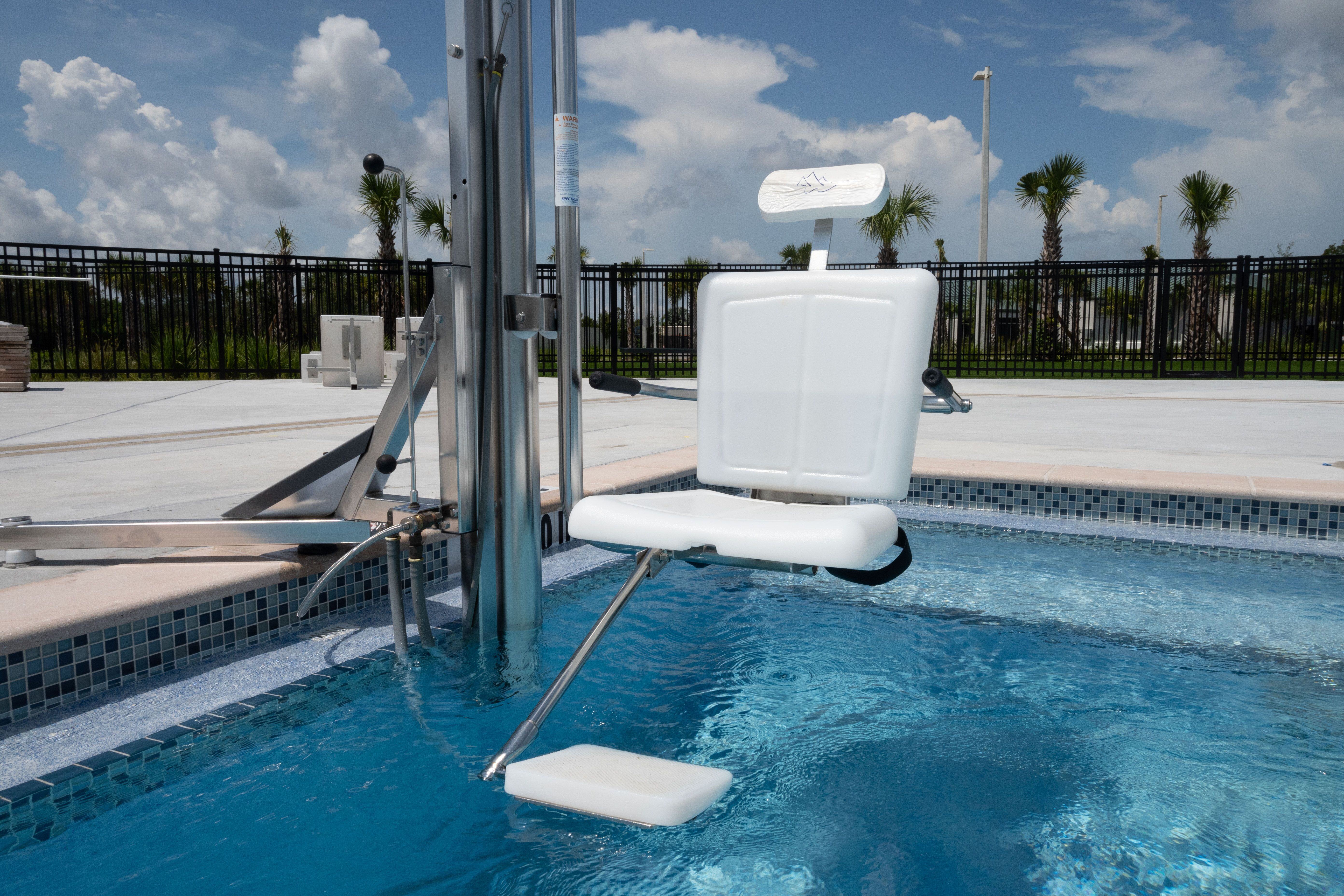 Accessibility Requirements for Existing Swimming Pools AND SPAS
In 2010, the Department of Justice published updated regulations under the Americans with Disabilities Act (ADA). These regulations adopted the 2010 Standards for Accessible Design (2010 Standards), which for the first time contain specific accessibility requirements for a number of types of recreational facilities including swimming pools, wading pools, and spas.
In January 2012, the Department issued guidance titled "ADA 2010 Revised Requirements: Accessible Pools—Accessible Means of Entry and Exit" to assist entities covered by Title III of the ADA, such as hotels and motels, health clubs, recreation centers, public country clubs, and other businesses that have swimming pools, wading pools, and spas, in understanding how the new requirements apply to them.
Title III of the ADA requires that places of public accommodation (e.g., hotels, resorts, swim clubs, and sites of events open to the public) remove physical barriers in existing pools to the extent that it is readily achievable to do so (i.e., easily accomplishable and able to be carried out without much difficulty or expense).
Does a community pool have to provide an accessible means of exit and entry?
Community pools that are associated with a private residential community and are limited to the exclusive use of residents and their guests are not covered by the ADA accessibility requirements. On the other hand, if a swimming pool/club located in a residential community is made available to the public for rental or use, it is covered under Title III of the ADA. If a community pool is owned or operated by a state or local government entity, it is covered by Title II of the ADA, which requires "program accessibility." Accessible Pools Means of Entry and Exit
My pool already existed before the effective date of the new rule. What am I required to do
to provide pool access to customers with mobility disabilities?
The ADA requires businesses to make existing pools accessible only when it is "readily achievable" to do so. Readily achievable means that providing access is easily accomplished without undue difficulty or expense. The 2010 Standards provide the benchmark, or goal, for accessibility in existing pools.
Are there any tax credits or deductions to help me comply?
Yes. To assist businesses, comply with the ADA, Section 44 of the IRS Code allows a tax credit for small businesses and Section 190 of the IRS Code allows a tax deduction for all businesses. The tax credit is available to businesses that have total revenues of $1,000,000 or less in the previous tax year or 30 or fewer full-time employees. This credit can cover 50% of the eligible access expenditures in a year up to $10,250 (maximum credit of $5,000). To learn more about the tax credit and tax deduction provisions, contact the DOJ ADA Information Line (at 800-514-0301 (voice); 800-514-0383 (TTY).
What is the difference between a "portable" lift and a "fixed" lift?
The real issue is not whether a lift is "portable" versus "fixed," but rather whether a lift is "fixed" versus "non-fixed." A fixed lift means that the lift is attached to the pool deck or apron in some way. A non-fixed lift means that it is not attached in any way. Therefore, a portable lift that is attached to the pool deck would be considered a fixed lift.
What if I have two pools or a pool and a spa? Can I share a lift between pools?
In new construction, each pool or spa must provide accessible entry and exit. For existing pools, whether each pool or spa must have its own lift (or other accessible means of entry) depends on whether it is readily achievable. If it is not readily achievable for a business to provide a lift at each pool or spa, it does not mean the inaccessible pool or spa must be closed. In these circumstances, the business should make a plan to purchase and install a compliant pool lift or other accessible entry when it becomes readily achievable to do so. Sharing non-fixed pool lifts between pools can pose safety risks to swimmers with disabilities because if a lift has been moved to another pool, a person with a disability might be unable to get out of the pool. Sharing lifts between pools also requires people with disabilities to rely on staff assistance to find, move, and set up the lift each time.
If I can't provide a lift at every pool, do I have to close the one(s) that has no lift?
No. If it is not readily achievable to provide a lift at each pool, the inaccessible pool(s) may remain open.
Can I store my lift and bring it out only when it is requested by a person with a disability?
No. A pool lift must remain in place and be operational during all times that the pool is open to guests. ADA Standards specify that a lift must be located at the proper water depth and with the necessary space around it to maneuver a wheelchair. Moving a portable lift around raises the likelihood that the lift will be improperly located, making it difficult or dangerous to use.
For more information, download Accessible Pools Means of Entry and Exit, or visit ADA.gov.
Spectrum Aquatics has several ADA Compliant Pool and Spa Lifts to bring your facility up to code. Explore our ADA Pool and Spa Lifts here and please let us know if you have any questions by using the Contact Us button in the top right corner.