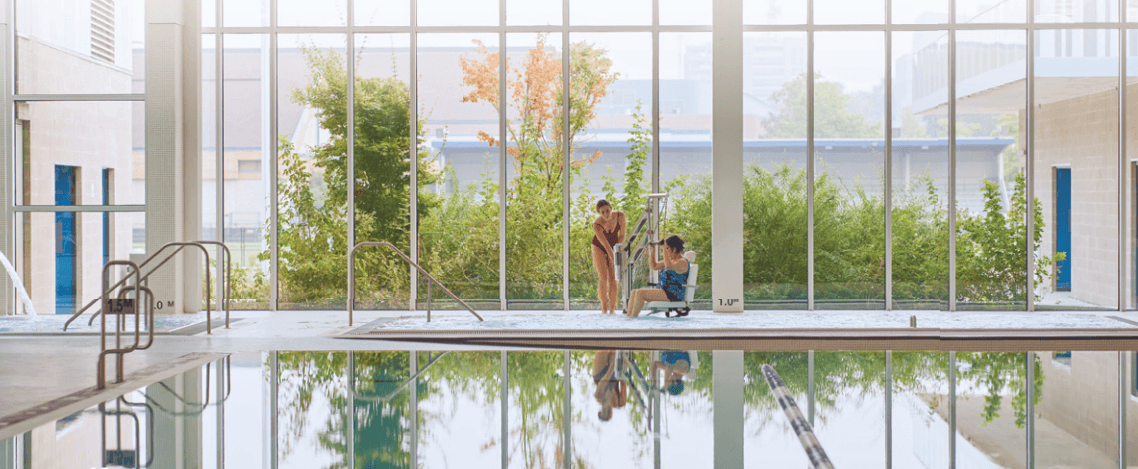 Understanding ADA Standards in Aquatic Facilities
ADA - Americans with Disabilities Act
The Americans with Disabilities Act is a civil rights law that prohibits discrimination on the basis of disability. Americans with disabilities are the largest minority group with about 50 million individuals living with disabilities.
In 20120 the ADA Standards Law went into effect providing specifications for the design of new and altered facilities to ensure that individuals have equal access to swimming pools and spas.


WHOM Does the ADA Standards Law Affect?
Under Title II of the law, all Public and Government facilities including public parks and recreation districts, public schools, and universities, as well as all municipalities, cities, and counties in the United States must comply.
Additionally, under Title III of the law, all public, private, and commercial facilities including hotels, private schools and universities, fitness and sports clubs, country clubs, waterparks, hospitals, and all health care facilities must also comply.
Who is not affected?
Residential housing, such as private residences, apartment complexes, condos, or homeowner's associations. If a residential entity strictly limits the use of its facilities to residents and their guests, it is not subject to ADA standards. However, if they do any of the following, they

ARE

required to comply.

The pool or spa is open to the general public.
They generate commerce or sell memberships.
The facility receives Federal funds.
The pool is used for swimming competitions that are open to competitors from outside associations.
The facility actively rents out its units when owners are absent using advertising, taking reservations over the phone, and providing meals or housekeeping services.
BECOMING compliant
Every commercial pool needs an ADA-approved means of access. If the pool is less than 300 linear feet, at least one ADA-accessible means of access is required. If the pool is greater than 300 linear feet, at least 2 ADA-accessible means of access are required. One must be primary, the other may be any of the five based on the chart below. You can repeat the same primary method twice if desired.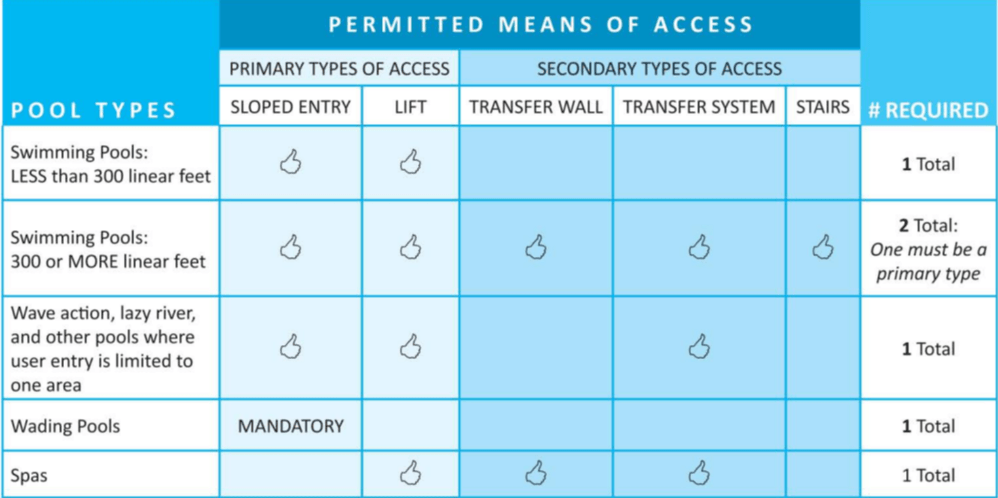 Additionally, there are rules to comply with the ADA Standards Law based on the water feature.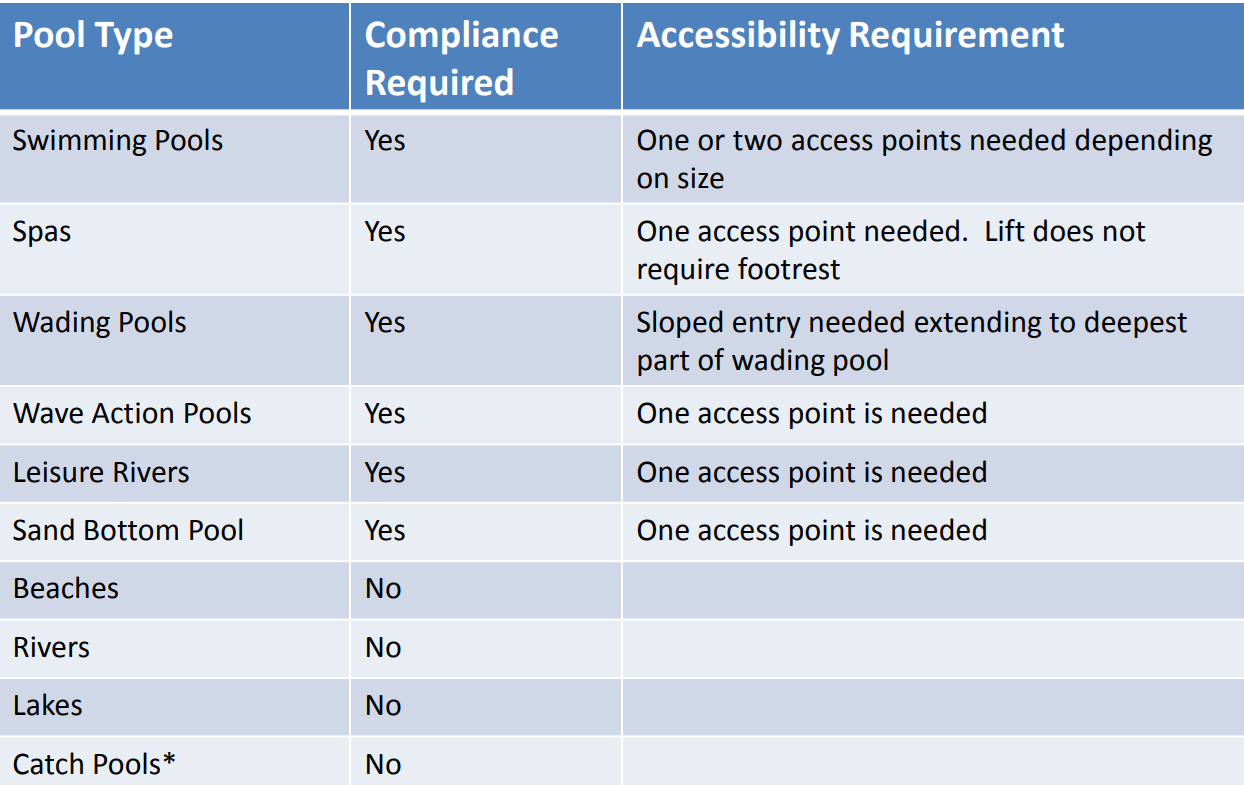 *Catch pools are bodies of water where a water slide or flume ride dumps users into water
ADA compliant lifts
To be ADA compliant, the pool lift must be able to carry a 300 lbs. minimum weight capacity. The law goes on to say. "Pool lifts should be provided that meet the needs of the population they serve. Providing a pool lift with a weight capacity greater than 300 pounds (136 kg) may
be advisable." - ADA Standards
300 lbs. minimum weight capacity.
A solid seat at least 16" wide.
Footrest (not required with spa) - Arm Rests are optional, but if included must be removable or folded clear of the seat when the seat is in the load position.
Capable of unassisted operation from the deck and the water.
Allows a person to call the lift when the pool lift is in the opposite position. It is extremely important for a person who is swimming alone to be able to call the pool lift when it is in the up position so he or she will not be stranded in the water for extended periods of time awaiting assistance.
Be able to drop the seat down to a depth of 18" below the stationary water level.
ADA compliant lift location
The lift must be located in less than 48" of water to provide the opportunity for someone to assist with the lift while standing in the pool. If the entire pool happens to be deeper than 48", the lift can be located anywhere, and if multiple lifts are being installed, only one needs to be in less than 48" of water.
The seat location is also very important and must be a minimum of 16" from the edge of the pool in the raised position.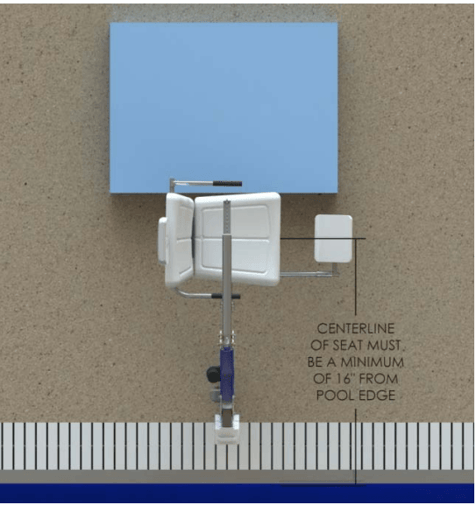 There must also be clear deck space of a minimum of 36" wide that extends forward a minimum of 48" from a line located 12" behind the rear of the seat and on the opposite side of the seat from the water. Only locate an ADA pool lift on a flat surface, with a slope no greater than 1:48 (2%) in all directions. Always allowing for users to get close enough to the pool lift to transfer from a wheelchair or mobility device is a must.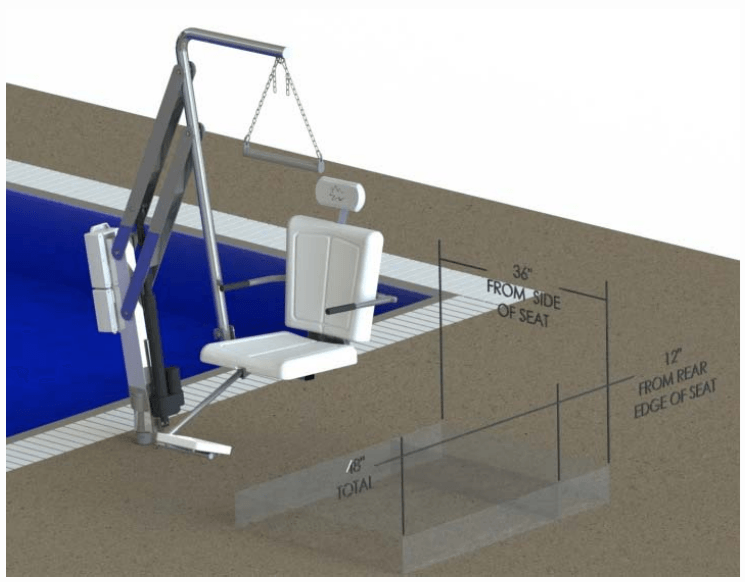 ADA compliant lift Operation
Operation of the lift should not require tight grasping, pinching, or twisting of the wrists to operate and should not require more than 5 lbs of pressure to operate.
The seat height should allow for a stop between 16" and 19" above the top of the deck when in the raised position. The lift must be capable of unassisted operation from the deck and the water, and the controls and operating mechanisms should be unobstructed when the lift is in use.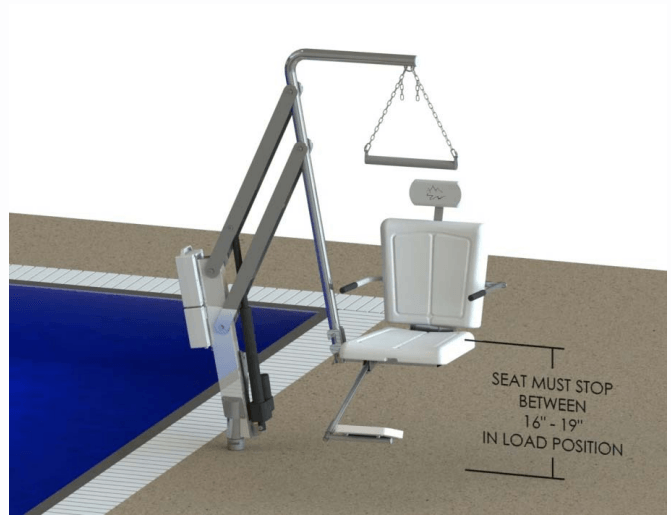 alternative methods of ADA compliance - Sloped Entry
Sloped entries are the

only

Primary Method other than a pool lift. Sloped Enteries come with their own set of ADA standards that must be met:


Have a minimum clear width of 36".
Have a max slope of 1:12 and be slip resistant.
Extend to a depth 24-30" below stationary water level.
Have at least 1 landing, 24-30" below stationary water level.

Landings at the top and bottom of each ramp and landing clear width must be at least as wide as the ramp run and 60" in length.
Handrails on both sides.
Width between rails must be between 33-38", height 34-38" to the top of the gripping surface
Extensions are required at the top of the landing, but not at the bottom
Handrails not required below water level, could be considered underwater obstruction
Handrails are required to comply with the ADAAG
Sloped entries in wading pools are not required to have handrails
Facilities are encouraged to provide aquatic wheelchairs and think about storage options for the user's mobility devices while they are in the pool.

alternative methods of ADA compliance - transfer walls
A Transfer Wall is a wall along an accessible route that allows a person to leave a
mobility device and transfer into the pool or spa. The ADA Standards for Transfer Walls include:
Height of the wall should be 16-19" from the deck, Width between 12"-16",
Length should be a minimum of 60" and be centered on the clear deck space.
Have at least one grab bar. Grab bars should be perpendicular to pool wall and reach the entire width of the wall.
Top of the gripping surface must be 4-6" above the wall. Diameter of the grab bars: 1.25 - 2".
Grab bar must not rotate or be abrasive.
Clear deck space, a minimum of 60" sq required with a slope less than 1:48 centered around the grab bar.
Surfaces of transfer walls should not be sharp and should have rounded edges to accommodate people using the transfer wall in bathing suits.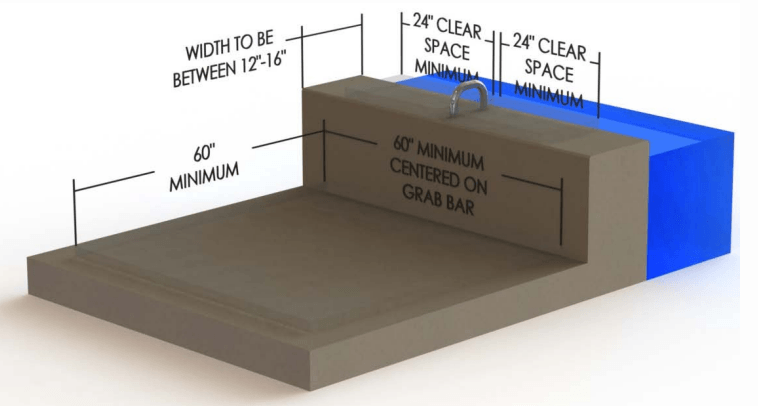 alternative methods of ADA compliance - transfer system
Transfer Systems allow users to transfer from their wheelchair or mobility device to the transfer platform and continue transferring into the water, step by step, bumping their way in or out of the
pool. It consists of a platform and a series of steps that descend into the water. ADA requirements include:
Transfer platform needs to be a minimum of 19" deep, 24" wide and 16"-19" high.
Clear deck transfer space of 60" sq minimum with a slope not steeper than 1:48 must
be provided at the base of the transfer platform and should be centered along a 24"
minimum side of the platform.
The side of the transfer platform serving transfer space should be unobstructed.
Transfer steps should have a maximum height of 8", (shorter heights recommended – this
decreases the distance required to lift up or move down to reach the next step.)
Steps must extend into the water a minimum of 18" below the stationary water level
and have a tread clear depth of 14"-17" and a tread clear width of 24" minimum.
Surfaces should have rounded edges and not be sharp.
There should be at least one grab bar on each transfer step and the transfer platform or a continuous grab bar serving each transfer step and the transfer platform.
The top of gripping surfaces should be 4" - 6" above each step and transfer platform or step-nosing and transfer platform.
Grab bars should be located on at least one side of the transfer system and should not obstruct transfer.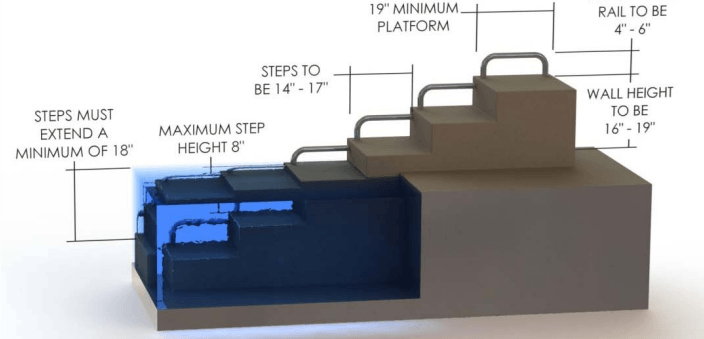 alternative methods of ADA compliance - accessible pool stairs
Accessible Pool Stairs provide assistance with balance and support when moving from the pool deck into the water and out from a standing position. In order to be ADA compliant, Accessible Pool Stairs must have:
Steps - All steps must have uniform riser heights and uniform tread widths of not less than 11 inches, measured from riser to riser. Open risers are not permitted.
Handrails - The width between handrails should be 20" – 24". Handrail extensions are not required at the bottom of pool stairs. Handrails must comply with ADAAG provisions. The top of the gripping surface must be 34-38" above the stair nosing.
enforcement of ada standards
Federally - Complaints will be filed through the Department of Justice and viewed as a Federal Civil Rights Violation
State/Locally - Local health department or local/county/state government adopts ADA as their building code. They can then withhold grants, funds, licenses, certificates of occupancy, building permits, and certifications.
maintenance of accessible features
Standards require accessibility features to be maintained in operable working conditions and to be readily accessible to and usable by persons with disabilities.
tax credit and funding
The Federal government offers tax incentives for barrier removals to help with the costs.

Visit http://www.ada.gov/taxincent.htm
Small businesses with <30 employees or total revenues of <$1 million can use the Disabled Access Credit.
Eligible small businesses may take a credit of up to $5,000 to offset their costs for access.
additional resources
2010 ADA Standards, http://www.ada.gov/2010ADAstandards_index.htm
Department of Justice – ada.gov
Technical Assistance hotline, 1.800.514.0301
Access Board's Accessible Swimming Pools and Spas, http://www.access-board.gov/recreation/guides/pools.htm
Technical Assistance hotline, 1.800.872.2253
State or Local Government Offices, visit your State Architect's Office or contact your local City Hall
Compliantpools.com
The purpose of this blog is to raise awareness and provide education about some considerations to promote ADA compliance. It should not be considered all-encompassing. Providers are encouraged to read the Standards and seek additional information if necessary. Please refer to manufacturer specifications and safety warnings and continue to provide normal safety inspections. Safety goes beyond these comments, requires common sense, and is specific to the pool involved. While the intent is to provide general resources for ADA compliance, PlayCore and all PlayCore companies disclaim any liability based on the information contained in this presentation. PlayCore provides these comments as a public service in the interest of inclusion and compliance while advising of the restricted context in which they are given.