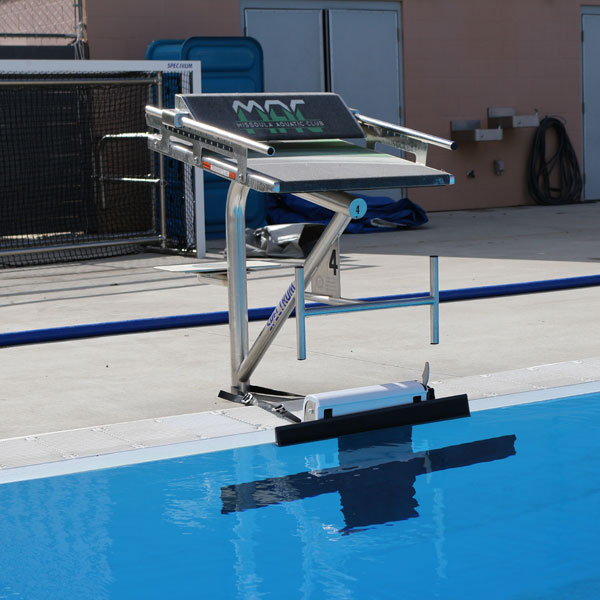 FOR IMMEDIATE RELEASE
Spectrum Aquatics Launches Stationary Backstroke Start Wedge
MISSOULA, MT, May 7th, 2018 - Spectrum Aquatics has launched the Stationary Backstroke Start Wedge which allows swimmers to perfect their backstroke takeoffs at their local pool for a fraction of the cost of other practice wedge systems. It utilizes the same non-slip wedge and straps as our top-of-the-line Backstroke Assist Device and can easily attach to nearly any existing starting block frame. All included hardware is stainless steel material that prevents corrosion and extends the life of the product.
"We have had hundreds of requests for a cost-effective wedge that swimmers could use for practicing backstroke starts. Our new Stationary Backstroke Start Wedge is our answer to these requests," says Shirley Gustafson, Starting Platform & Competitive Swimming Specialist. "This device can be attached to the underside of almost any starting platform top. If installed at the correct height, this wedge meets all FINA and USA Swimming guidelines and could potentially also be used in competitions. With a retail price under $200, it is also the most economic option on the market!" Stop by our booth at College Swimming Coaches in Chicago from May 6 - 8, 2018 and see our Stationary Backstroke Start Wedge.
About Spectrum Aquatics® Spectrum Aquatics has been a leader in the aquatics industry for the past 46 years and continues to be committed to the development of high-quality competitive swim and commercial aquatics equipment. The company is headquartered in Missoula, MT and is a division of PlayCore. For more information visit https://spectrumproducts.com.
PlayCore® helps build stronger communities around the world by advancing play through research, programs, and partnerships. We infuse this learning into our complete family of brands. To learn more, log on to www.playcore.com.