Blackfoot I – Wall Mount Pool Cover Storage Reel [Part#50220]
Blackfoot I – Wall Mount Pool Cover Storage Reel [Part#50220]
Manufactured of electropolished 304L stainless steel, the Blackfoot I swimming pool cover storage reel systems are structurally designed to support wet covers. Generally, one wall mount storage reel is needed for each section of covers to be stored. A simple hand held transmitter provides smooth deployment and/or retrieval for the pool covers. The solid state electronics are contained in a water tight, NEMA 4 enclosure, thus ensuring dependable operation and long life. Units are standard, custom is available to meet your specific needs. Automatic, no crank needed. Specify operating current 115 or 230 VAC, 1 phase, 60 cycle. Note: use of bubble covers are not recommended for use with the Blackfoot I.
Features
• Conserves pool deck space
• Radio-controlled
• Electronics contained in water tight enclosure
• Stainless steel construction electro-polished and passivated to resist corrosion
• Crank extensions available
Accessories
Transmitter for Blackfoot, Part#13066
Support for Blackfoot I – Wall Mount Pool Cover Storage Reel
Buy Parts for Blackfoot I – Wall Mount Pool Cover Storage Reel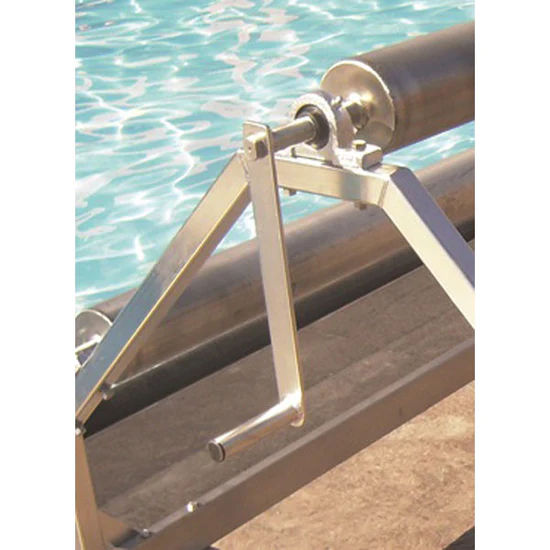 Replacement Crank Handle
Crank Handle- Slotted Hole - Part# 50009-00 Replacement stainless steel crank handle works with...
Experience Dependable and Consistent Communication
We're here to support you throughout the process, and will provide you with as much information as possible so that you can meet the timelines for your project.