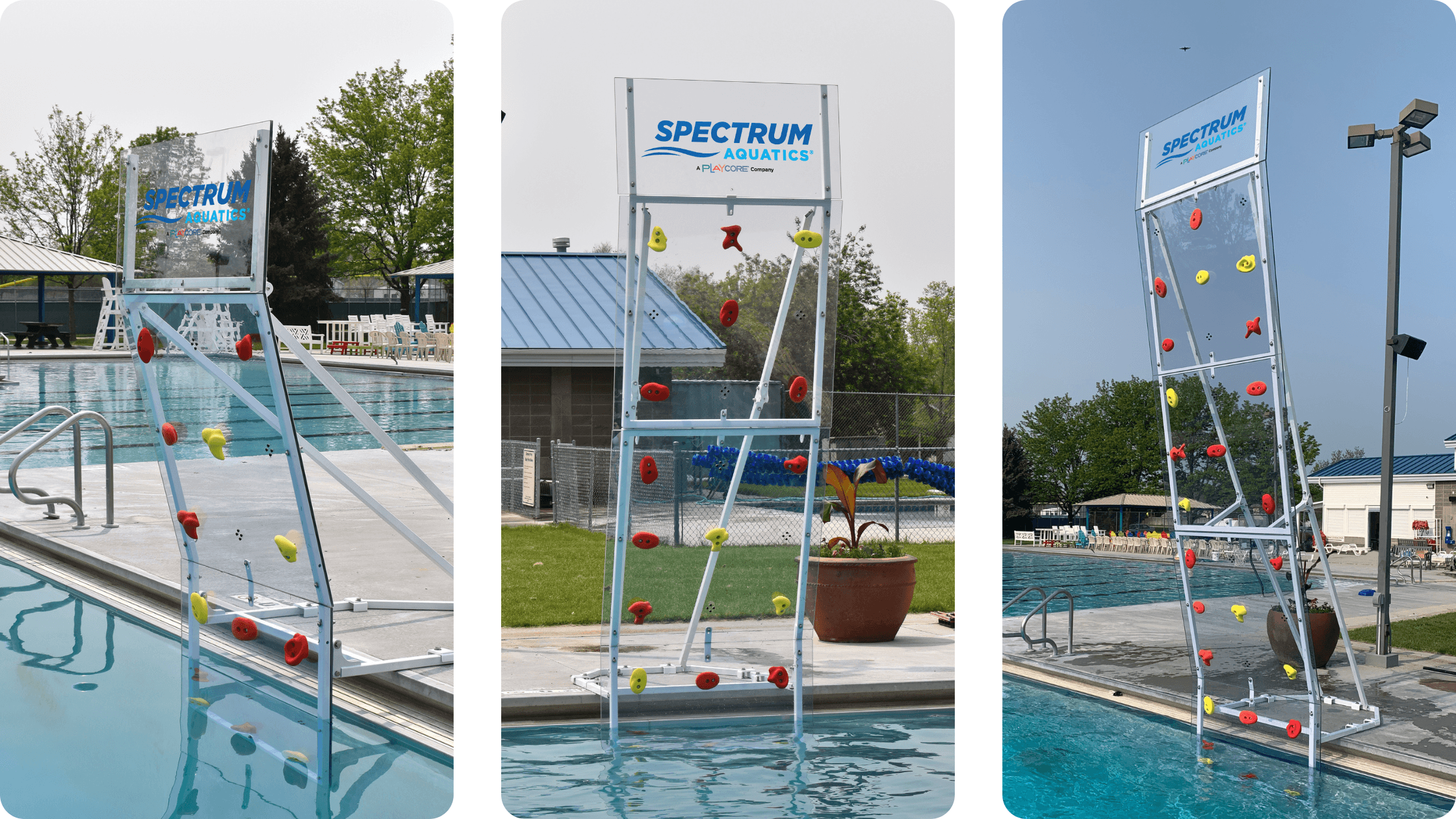 Spectrum Aquatics, a PlayCore company, is pleased to introduce the Kersplash® Challenger Pool Climbing Wall designed to enhance the climbing experience at aquatic facilities throughout the world.
The Kersplash® Challenger Pool Climbing Walls feature:
Smaller shipping packages to reduce freight cost.
304 stainless steel powder-coated frame.
4' x 4' panels that provide the ability to change the climbing course.
Largest climbing area available per panel - 16 square feet of climbable area per panel.
Easy assembly and installation – most facilities can do it themselves.
Easy break down for storage in the off-season.
"Designing an adventurous, sturdy, and safe climbing wall was our number one priority. The new Kersplash® Challenger wall structure gives climbers an incredible and memorable experience while challenging their abilities and determination to achieve higher goals," said Nabil Khaled – Vice President of Sales & Marketing. "To see the smiles on the faces of our future generation when they reach the top of the wall is priceless! Plunging down into the pool gives them a whole new level of excitement and fun."
­­
About Spectrum Aquatics: Spectrum Aquatics, a PlayCore company, has been meeting and beating aquatics industry standards for more than 49 years. Spectrum has an established reputation for manufacturing and distributing a broad array of quality products used in the construction and operation of commercial swimming pools and spas. Learn more at www.spectrumproducts.com
About PlayCore: PlayCore is a purpose-driven company committed to building stronger communities around the world by advancing play and recreation. The company infuses scholarly learning, through its Center for Outreach, Research, and Education, into its comprehensive family of brands. PlayCore combines best-in-class educational programming with the most comprehensive portfolio of commercial play and recreation products and services to create tailored solutions that match the unique needs of each community served. Learn more at www.playcore.com