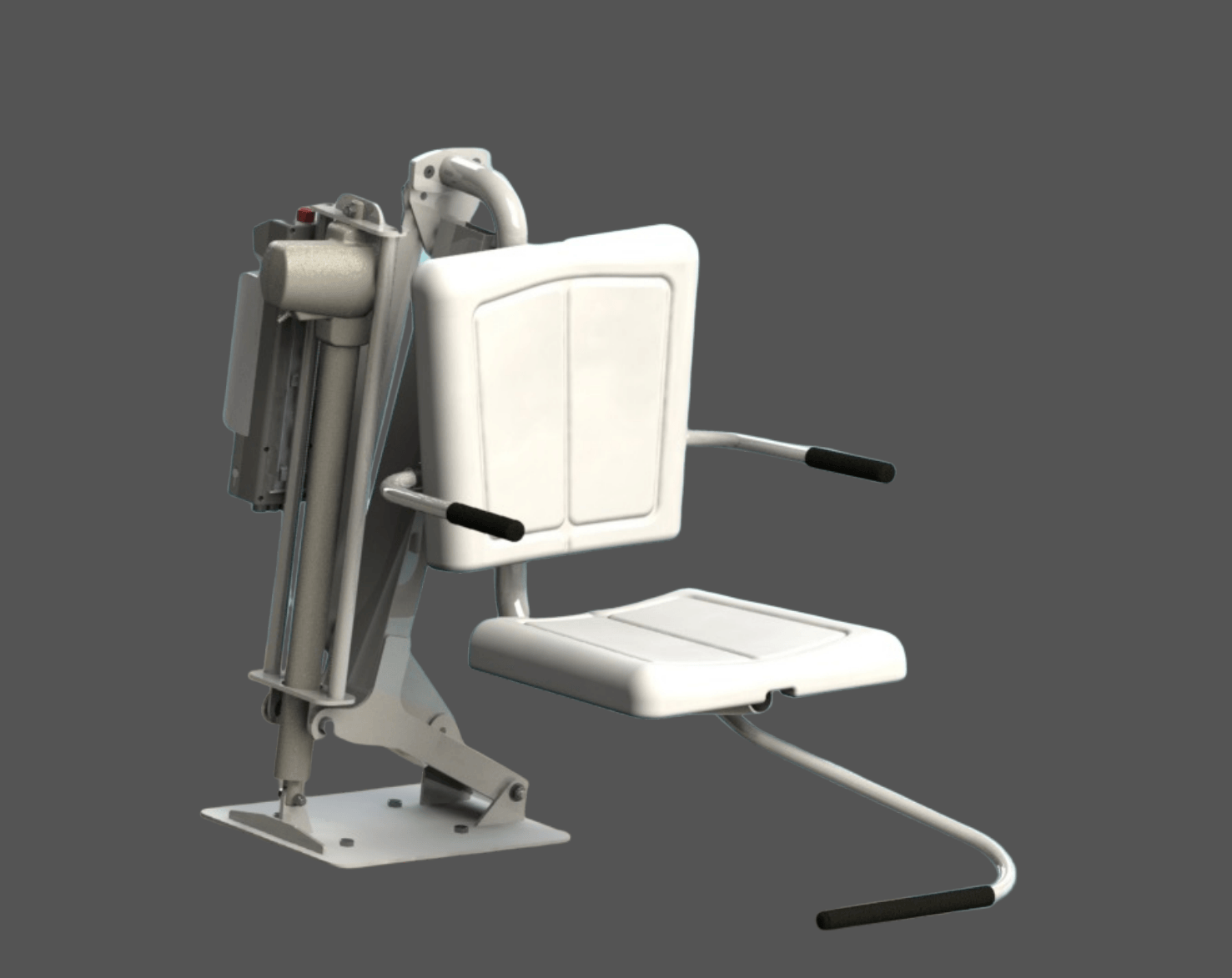 Spectrum Aquatics Releases AQUA Buddy® BP 350 Lift
MISSOULA, MT, September 24 2018 - Spectrum Aquatics has released the AQUA Buddy® access lift pool and spa. The Aqua Buddy® lift is battery powered offering a smaller footprint with a single axis that is perfect for motels, hotels and any location where deck space is limited. The AQUA Buddy® is constructed of stainless steel that is powder coated for more durability and utilizes a secure and simple designed mounting system. Important features include flip-up stainless steel armrests and wide, flat surfaces to support the additional weight demands often placed during transfer.
"Through marketing research we have learned our customers are requesting a smaller profile ADA lift," says Nabil Khaled, Spectrum Aquatics Vice President of Sales, Marketing and Customer Service. "The sleek AQUA Buddy® is designed to reduce the overall footprint, which customers find aesthetically pleasing. Our new lift will be at the NRPA Conference 2018 in Indianapolis. Please stop by booth 1513 and learn more about it."
To learn more, visit: https://spectrumproducts.com/products/aqua-buddy
About Spectrum Aquatics® - Spectrum Aquatics has been a leader in the aquatics industry for the past 46 years and continues to be committed to the development of high-quality competitive swim and commercial aquatics equipment. The company is headquartered in Missoula, MT and is a division of PlayCore. For more information visit https://spectrumproducts.com.
PlayCore is a purpose driven Company committed to building stronger communities around the world by advancing play and recreation. The company infuses scholarly learning, through its Center for Outreach, Research, and Education, into its comprehensive family of brands. PlayCore combines best-in-class educational programming with the most comprehensive portfolio of play and recreation products and services to create tailored solutions that match the unique needs of each community served. To learn more, log on to www.playcore.com