Motion Trek BP400 [Part #163145, 163371]
Motion Trek BP400 [Part #163145, 163371]
The Motion Trek BP 400 is an ADA compliant battery powered lift that is self operable from the deck and water with a robust operating system. The Motion Trek BP 400 is designed for in-ground pools and spas.
Features
• Fully ADA Compliant
• 400 pound operating load capacity
• Self operable from the deck and water
• 90 lifts per battery charge
• All stainless steel construction (electropolished 304L grade)
• Coated with Spectra Shield® for maximum corrosion protection
• Stabilizer bar significantly improves lift stability during transfer
• Spacious seat with excellent lumbar support designed for ease of transfer
• Rotationally and vertically powered with 360 degree continuous powered rotation
• Proprietary Robust Operating System and Actuator outperforms the competition
• Accommodates pool wall setback of 6" to 22" and water draft up to 12"
• Easy to install, even into existing concrete decks
• Improved rotation system for a smooth ride


Accessories
Anchor Extension, Part#163364-238
Accessory Package, Part#193403 - Includes: Battery, Dielectric Grease, Cover, Light Duty Lift Cart, Spine Board Attachment and Stability Strap
Heavy Duty Cart, Part#42848
Light Duty Cart, Part#193404
Lift Maintenance Kit, Part#152161-MT - Includes: Remote, 32oz Spectra Shield, 22oz Spectra Clean System 1, Disposable Rags, Scratchless Scoth-Brite Pad, Battery, Dielectric Grease, Security Tork Bit
Anchor Bearing Assembly, Part#173410
Rotational Motor Assemble, Part#173424
Hardware Kit, Part#173407
Actuator, Part#153600
Handset, Part#153603
AC/DC Adapter, Part#153604
Charger Cradle, Part#153605
Control Box with Battery, Part#173415
Variations
Part#163145 - Motion Trek BP400 with Anchor

Part#163371 - Motion Trek BP400 without Anchor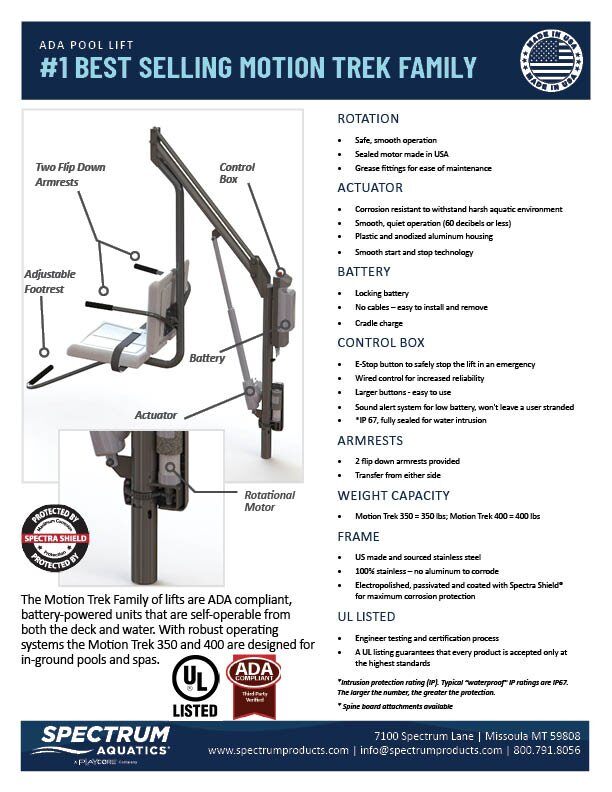 Certifications
ADA Compliant
Support for Motion Trek BP400
Buy Parts for Motion Trek BP400
Experience Dependable and Consistent Communication
We're here to support you throughout the process, and will provide you with as much information as possible so that you can meet the timelines for your project.