Kersplash Pool Climbing Walls
Kersplash Pool Climbing Walls
Kersplash Pool Climbing Walls add adventure to pool decks in both indoor and outdoor applications. Available in 2, 3, and 4 panel heights. The Kersplash Pool Climbing Wall is made of a 100% stainless steel frame and UV and chlorine resistant panels.
NEW - Kersplash climbing walls are now available in clear see-through panels, and translucent blue and green panels!
Get a custom look at your facility by configuring the Kersplash Kolor panels in a fun checkerboard pattern, alternating columns, or all clear, blue or green panels.
Features
• Designed to last in harsh indoor and outdoor aquatic settings
• All Spectrum stainless steel is passivated and coated with Spectra-Shield
• Frame is made from 100% USA made stainless steel
• Each section comes as sturdy single frame with solid one piece construction
• Easy to install
Part Numbers
Specifications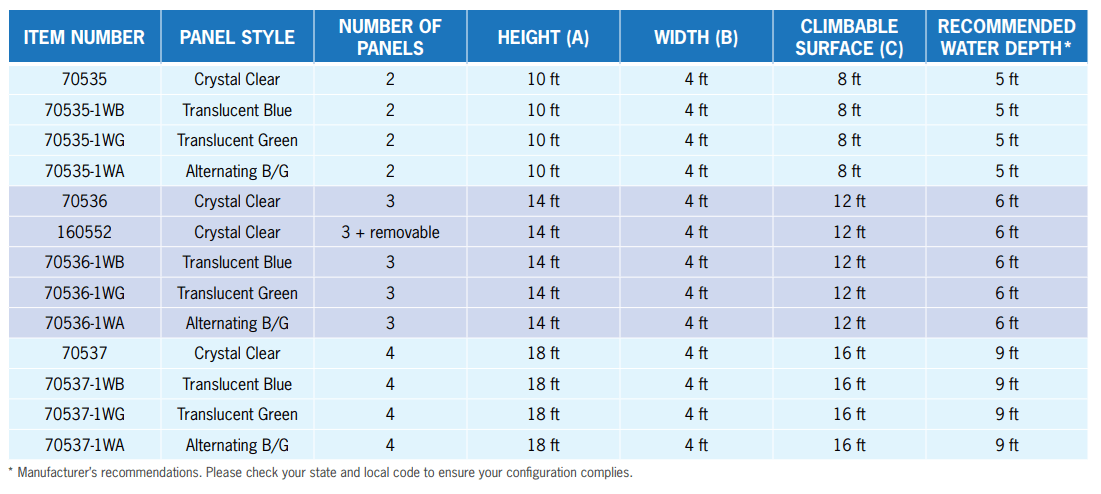 Support for Kersplash Pool Climbing Walls
Experience Dependable and Consistent Communication
We're here to support you throughout the process, and will provide you with as much information as possible so that you can meet the timelines for your project.